April 15, 2007

Quick Start Guide to mee.nu - part 2 - Your First Post
Content is what keeps people coming back. Make it interesting, and folks will show up. More importantly, folks will start showing up more than once. And even though you can't imagine why, it's a good feeling to find out that there are people out there who stop by just to see what you've got to say.
Have you
logged in
already? If so, then from your site you'll see a little orange "edit" selection near the top in the menu bar. Or you've gotten to the main menu, which looks something like this: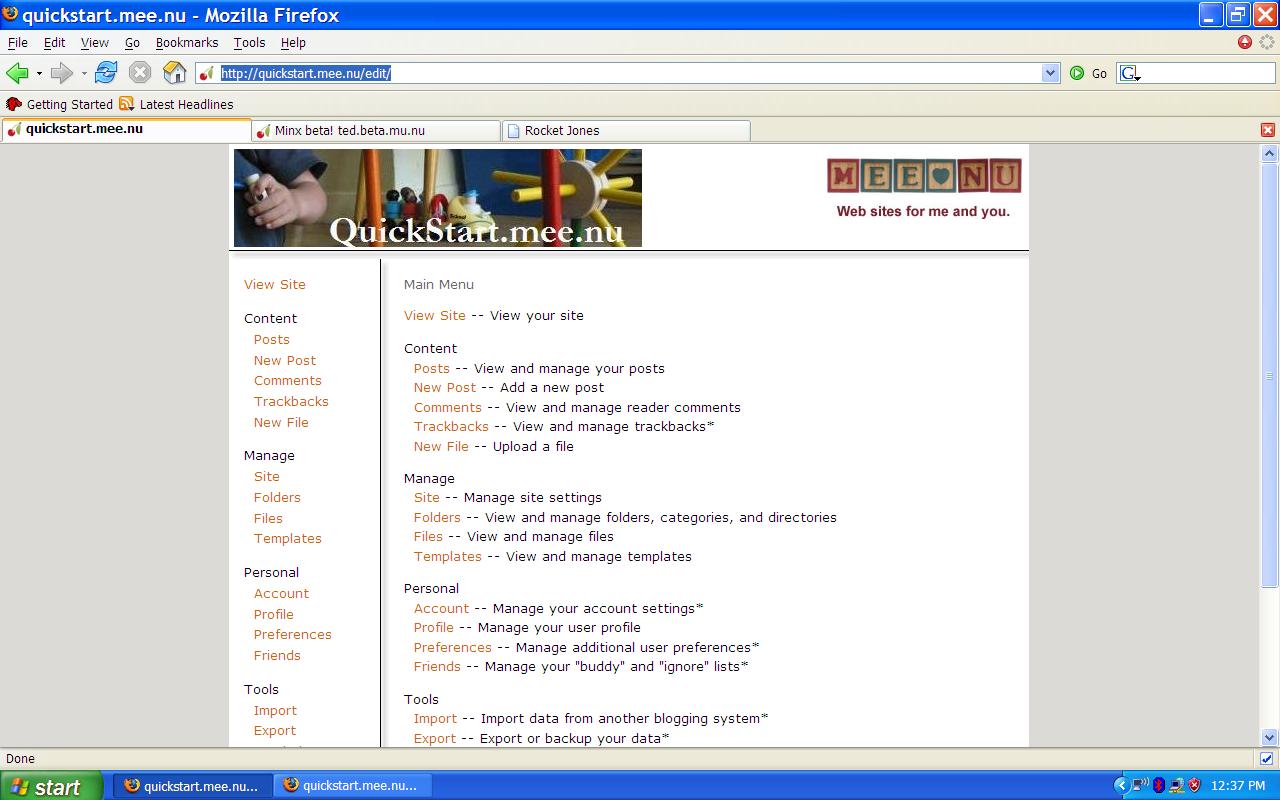 For now, I'll show you how to create and publish a simple text post.
Step one is to look on the right hand column and click on the link called "New Post". Sounds simple, eh? You will then be shown a screen that looks sort of like a word processor document, with a place where you can enter a title. Don't worry about Category just yet, and Status should equal "Publish" for now.
In the block labeled "Text" you have three rows of buttons to do all kinds of familiar formatting things to your words, and you can hover your mouse over them to see a little explanation box pop up.
So you type in whatever you want to say... what about that
second
block just below, titled "More"?
That's for an extended entry. Say, for example, that you have a wonderful essay to post, but it's thirty pages long. You might want to put the first few paragraphs on the main page, and the rest in the extended entry. On your site, a hyperlink called "more" will appear at the bottom of the post, and clicking that will open up the rest of the article so that people can read it. This is good because often people won't bother to scroll down forever to see if there's anything else new to read below the current post.
The rest of this post is in the extended entry. Click on the "more" to see it.
Still with me?
Once everything looks like you want it to, scroll all the way to the bottom of the page and click on the "Save" button. As long as your Status above is set to "Publish" then your words will become immortal.
Well, not really, because you can always go back to a post by clicking "Posts" under the Content heading of the sidebar menu and edit until you're happy with the results.
Play around a bit. Write and publish a few quickie posts, and when you go back to your page you'll see that there's actual stuff there for people to read. Yay!
Posted by: RocketJones at 04:39 PM under Content | Comments (2) | Add Comment
Post contains 454 words, total size 3 kb.
1
Thanks Ted! Cool stuff.
Posted by: Pixy Misa at April 15, 2007 05:39 PM (PiXy!)
2
We are the professional manufacturer with mesh fence, strong technical force and high-tech production of wire mesh.
Rockfall Netting a hexagonal woven wire mesh, supplied in rolls 2m wide and 25m in.length.
Galvanized steel grating is an ideal product for wet, slippery situation where corrosion resistance is vital. The mild steel gratings are hot dipped galvanized in the galvanizing bath.
Posted by: fdsfds at March 09, 2012 07:17 AM (iQzsY)
Comments are disabled. Post is locked.
7kb generated in CPU 0.04, elapsed 0.0948 seconds.
24 queries taking 0.0676 seconds, 25 records returned.
Powered by Minx 1.1.6c-pink.