April 20, 2007

Random Quote Display
Minx makes it simple to add this nifty little feature. Every time someone visits your webpage or hits the refresh button, a different quote will be displayed.
Here's how to do it:
1. Create a "quote" file. I used notepad, but anything that will save a text (.txt) file will do. Put whatever you want in there, for example...
When the animals rise up in revolt, dogs and cats have special plans for Mr. Bob Barker.
I am not a crook. -- Richard Nixon
Nice doggie. -- George of the Jungle
The key here is that each quote is ended with a Return (or Enter, depending on your keyboard). Other than that, no blank lines between sentences, etc.
2. Create a new template. Let's call it Sayings. Click on the template link (under Manage, over on the editing sidebar), and at the bottom of that page click the "New" button.
Fill out the form.
Type: Data
Name: Sayings
Content: in this block just cut and paste your quotes from the text file you did in step 1.
Save.
3. Now go into your Sidebar template, pick out where you want your quotes to appear, and paste the following:

<h2>Uncommon Sense</h2>
[quote:random data.sayings]
<p>
Save and that's it! You can change the heading between the "h2" tags to say whatever you want, and Minx will do the rest.
I've done this example here on Quickstart, so you can see how it works. Psst, over there, on the sidebar.
Posted by: RocketJones at 04:48 PM under Content | No Comments | Add Comment
Post contains 248 words, total size 2 kb.
April 15, 2007

Quick Start Guide to mee.nu - part 2 - Your First Post
Content is what keeps people coming back. Make it interesting, and folks will show up. More importantly, folks will start showing up more than once. And even though you can't imagine why, it's a good feeling to find out that there are people out there who stop by just to see what you've got to say.
Have you
logged in
already? If so, then from your site you'll see a little orange "edit" selection near the top in the menu bar. Or you've gotten to the main menu, which looks something like this: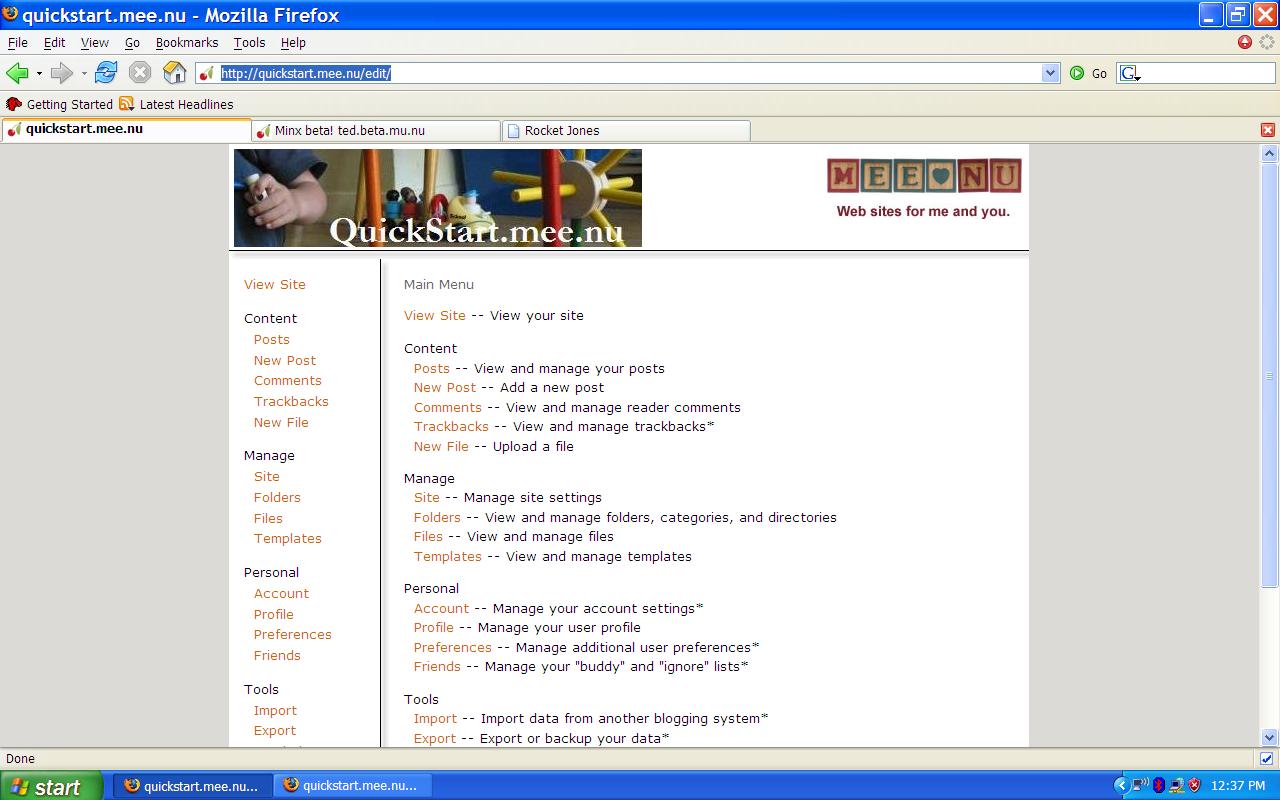 For now, I'll show you how to create and publish a simple text post.
Step one is to look on the right hand column and click on the link called "New Post". Sounds simple, eh? You will then be shown a screen that looks sort of like a word processor document, with a place where you can enter a title. Don't worry about Category just yet, and Status should equal "Publish" for now.
In the block labeled "Text" you have three rows of buttons to do all kinds of familiar formatting things to your words, and you can hover your mouse over them to see a little explanation box pop up.
So you type in whatever you want to say... what about that
second
block just below, titled "More"?
That's for an extended entry. Say, for example, that you have a wonderful essay to post, but it's thirty pages long. You might want to put the first few paragraphs on the main page, and the rest in the extended entry. On your site, a hyperlink called "more" will appear at the bottom of the post, and clicking that will open up the rest of the article so that people can read it. This is good because often people won't bother to scroll down forever to see if there's anything else new to read below the current post.
The rest of this post is in the extended entry. Click on the "more" to see it.
more...
Posted by: RocketJones at 04:39 PM under Content | Comments (2) | Add Comment
Post contains 454 words, total size 3 kb.
10kb generated in CPU 0.04, elapsed 0.0784 seconds.
30 queries taking 0.0584 seconds, 34 records returned.
Powered by Minx 1.1.6c-pink.